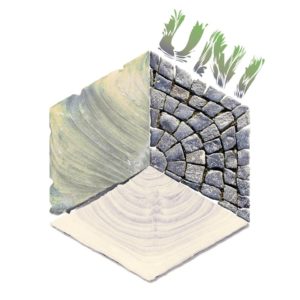 Urban Naturalistic Installations (UNI) is an environmental, integration and sustainable education project in Lund, Sweden initiated by non-profit organisation ABC – Active contributions for people and the environment аnd leaded by Hristo Valchev for the period March – October.  The project is possible thanks to financial support from City of Lund's Environmental Grant. The project is in collaboration with many local business, projects, organisations and institutions.
During 2017, UNI engages people of Lund in creating three "natural installations" in central places of the city. These installations aim to increase biodiversity and create open meeting places and educational platforms right in the heart of Lund.
We hope to see people of all ages and backgrounds in Lund to participate in this creative process of making public gardens that bring nature in the city and create a sustainable way of using the public spaces, that increase the biodiversity in the city while creating educational platforms that unite and inspire people!
So here we go with so much fun..
We have  started with a public design drawing of ideas for the future installations in February 2017.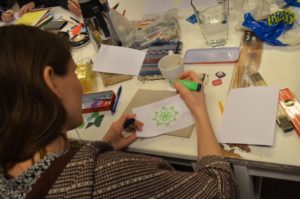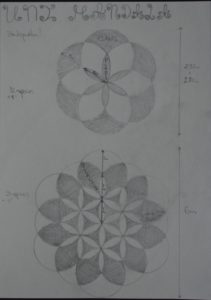 Тhis was followed by discussion with the municipality of Lund for public places in the city center to install the three installations.
In March we have started the pre-cultivationof a wide variety of herbs, spices, flowers, vegetables and berries that are going to be used for the decoration of the installations.
There will be regular project sessions every Wednesday at 17:00 in the White Gallery of Stenkrossen – house of culture in Lund, together with the gardening sessions of Vi Odlar ABC's organisation project.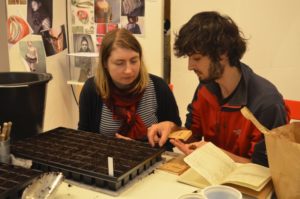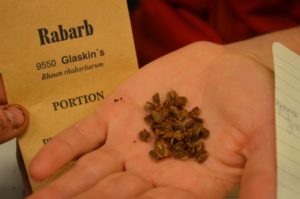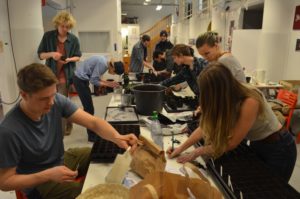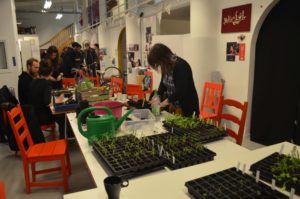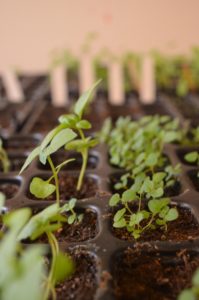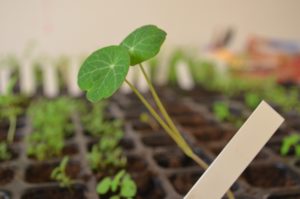 After a long discussion with the Lund's municipality departments we decided to make one herbal spiral garden installation, one mandala garden installation and another Green Growing Globe installation.
We managed to get in collaboration with more than 10 local collaborators for the different installations.
We have started to build the installations in May and the first one was a Herbal Spiral Garden that was placed on Stortorget – the main square in the city. We created it during the Sustainability Week in Lund 15-21 May 2017 and planted it on 20th of May.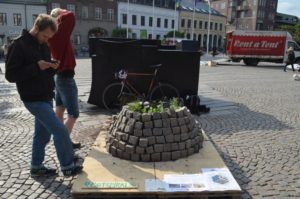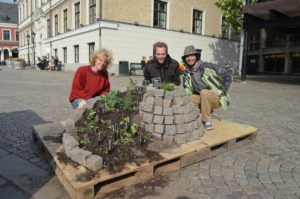 Then we continued with the making of the Mandala Garden at Stenkrossen which we created in June and planted on Midsummer 24th of June!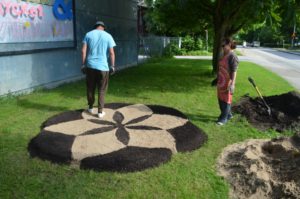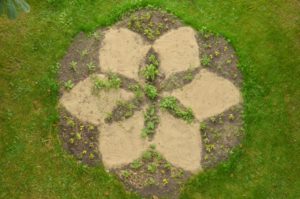 Then we have started setting up the last third installation  – The Green Growing Globe II (GGG II)
The Green Growing Globe II Installation is using the structure of the Growroom designed by Studio Space10. It is an Earth-shaped smart garden approximately 2,5 m.  in diameter which supports the cultivation of different species of edible herbs, spices and greens which are automatically watered by smart system run on renewable energy from a solar panel. The solar energy can also power bike and usb chargers. There are also weather sensors comparing the humidity and temperature inside and outside the globe. The GGG II will be temporary installation on Domkyrkoplatsen during September 2017. Big thanks to Lunds Domkyrkoförsamling for providing us with this exhibition place!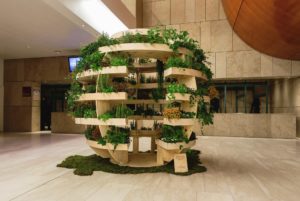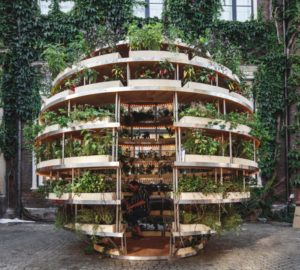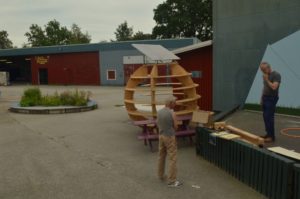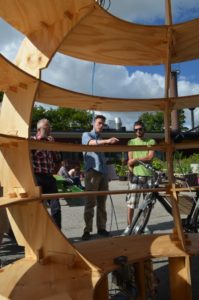 Information about collaborators:
Bylife
At Bylife we are determined to increase peoples' quality of life by bringing the nature indoors. Today, we spend 90% of our time indoors. By surrounding yourself with plants you do not only decrease your stress level, your concentration is increased and the indoor air is cleaned from pollutants, which increases your cognitive ability. Having household plants are today connected with investing your time and knowledge to make them survive. Bylife creates robotic growth platforms that liberate you from all the work attributed to plants but allows you to enjoy all of their positive effects from being surrounded by nature. Bring the nature to where you are – Indoors.
www.bylife.io
solarXbike
In the project Growroom solarXbike provides efficient energy-solutions for mobile and local consumption. Energy is stored in batteries to be used when needed on demand. Power for irrigation system, for charging electric bikes and to charge mobile phones.
https://www.facebook.com/SolarXbike-1742893489321580/
FutureByLund
Future by Lund is an innovation platform for development of sustainable and attractive cities. This is a meeting place for new and established participants side by side. Within our areas of focus: Energy, Moving Things and People, Makers & Sharing, The Digital Human, Future Living & Spaces, and Human Centric Light, we create different test environments. Our focus is towards "Smart Cities & Smart Citizens."
Webb: www.futurebylund.se
Facebook: https://www.facebook.com/futurebylund
Linkedin: https://www.linkedin.com/company-beta/18016988/
Instagram: https://www.instagram.com/futurebylund/
Twitter: https://twitter.com/FutureByLund
Sensefarm
Sensefarm, located at Ideon here in Lund, makes environmental sensors and systems creating a win-win situation for both the environment and farmers. Work can be optimised, plants get healthier and less fertilizer and pesticides needs to be applied with our sensor information. Originally intended for agriculture, smart cities and urban farmers are adapting our sensors, systems and apps for making the correct choices and improving the urban and world environment.
Link to Green Growing Globe sensors:
https://graph.sensefarm.com/demo/ggg
Webb: http://www.sensefarm.com
Facebook: https://www.facebook.com/Sensefarm.ab/
Linkedin: http://linkedin.com/company/sensefarm-ab
Instagram: http://instagram.com/sensefarm
Twitter: http://twitter.com/Sensefarm
Contact: Anders Hedberg, CEO Sensefarm,
info@sensefarm.com, phone +46 46 288 4520
More information about the events coming up soon!
---
More information about the project:
https://www.facebook.com/UNILund
https://www.facebook.com/abcsweden
https://www.facebook.com/naturalistichno
http://www.stenkrossen.se/projektkontor/projekt-pa-stenkrossen/urban-naturalistic-installations/
#abcsweden
#bylife
#ggglund
#naturalistichno
#solarxbike
Graphic Design: Anna Wolanska
annawolanska@icloud.com
If you have any questions or comments, please contact:
Project Leader: Hristo Valchev
e-mail: hristo.valchev@abcsweden.org
mob: +46735230554
Thank you!